Posted on
6 June 201824 June 2019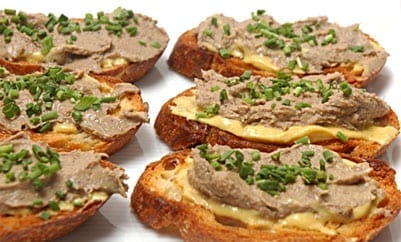 Ingredients
30g Unsalted butter at room temperature for cooking
85g unsalted butter at room temperature for blending
2 French shallots, finely chopped
2 Cloves of garlic, finely chopped
225g of chicken liver
1 tablespoon of cognac or port
2 tablespoons of creme fraiche
Spices:
Pinches of cinnamon
Clove
Nutmeg
Salt and pepper
Bay leaf
Fresh thyme
Method
Put the butter in a pan and add the shallots and garlic and place over a low heat.
Heat gently and while the shallots and garlic are softening, add the liver and the spices, the bay leaf and the thyme.
Cook for about three minutes, the liver should be pink in the middle.
Allow to cool for about 15 to 20 minutes then take out the bay leaf and thyme.
Put the mixture into a food processor with an extra 85g of butter and blend.
Then with a wooden spoon carefully fold in the port or cognac and the creme fraiche.
Put into a mold or dish and refrigerate over night.
Serve with fresh crusty bread.
---
Grab your ingredients at the next Newcastle City Farmers Market
Thirlmere Poultry
Over the Moon Milk
Sourdough Bread from Bills Bakery or Fosterton Farm Bakery