Posted on
6 June 201824 June 2019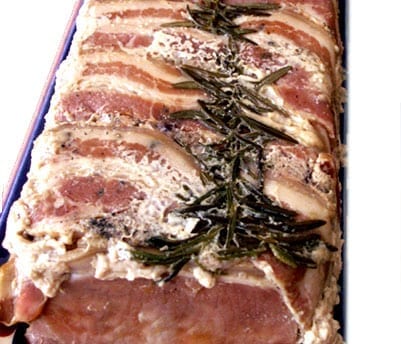 600g Chicken breast fillets, trimmed
350g Chicken thigh fillets, trimmed
300g Chicken minced or veal or pork
Quarter of a teaspoon of nutmeg
2 Tablespoons of marjoram
40g Pistachios
7-10 Slices of middle cut bacon, rind removed or prosciutto sea salt, about a tablespoon, or to taste
Method
Cut breast and thigh into 1cm cubes then combine minced chicken, with nutmeg, marjoram, pistachios, salt and pepper, then mix well.
Place slices of bacon across base and sides of the loaf tin, then pack in chicken mixture.
Cover terrine with foil and bake at 180C for 1 hour.
Cool terrine to room temperature, then refrigerate overnight
Allow to cool for about 15 to 20 minutes then take out the bay leaf and thyme.
Put the mixture into a food processor with an extra 85g of butter and blend.
Then with a wooden spoon carefully fold in the port or cognac and the creme fraiche.
Put into a mold or dish and refrigerate over night.
---
Grab your ingredients at the next Newcastle City Farmers Market
Thirlmere Poultry
Eumundi Smokehouse