Posted on
6 June 201824 June 2019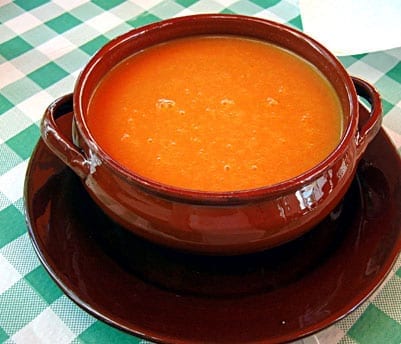 Ingredients
1kg Ripe tomatoes
100g of white bread, crust, removed, soaked in water Half a cucumber small capsicum
1 Clove of garlic
4 Tablespoons of virgin olive oil
2 Tablespoons of sherry vinegar or red wine vinegar Salt and pepper to taste.
Method
To peel your tomatoes, take off the bottoms, blanch them in boiling water, about one minute each, then refresh with cold water.
The skin should easily slide off then chop them up.
Squeeze the water out of the bread then put in a food processor with the cucumber, capsicum, tomatoes, garlic and blend until smooth.
Transfer liquid to a large bowl and add olive oil vinegar and season to taste. Refrigerate and serve cold.