Posted on
6 June 201824 June 2019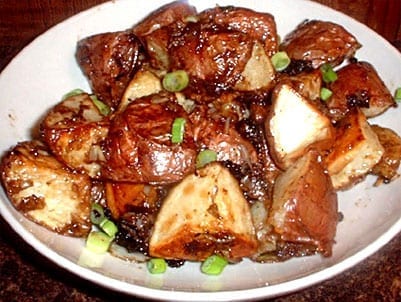 Ingredients
1kg of Potatoes, halved if large
Olive oil
Sea salt
Black pepper
If the potatoes are large halve them, coat in olive oil, sea salt and black pepper then cook for about 45 minutes.
Dressing:
Quarter cup whole egg mayo
Quarter cup chopped green onions
Quarter cup of grated parmesan
Half a cup of mint leaves, finely chopped Half a cup of chopped parsley
2 Tablespoons white wine vinegar.
Method
When the potatoes are cooked, mix together the dressing and toss potatoes in the dressing. This dish can also be served cold.
---
Grab your ingredients at the next Newcastle City Farmers Market
May's Potatoes
The Happy Hen
Tilligerry Organic Produce
Parmesan Cheese from Hunter Valley Pasta Company